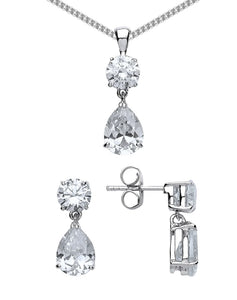 Sterling Silver 925, Rhodium Plated, Cubic Zirconia Pear Drop Earrings and Necklace Set from Mark Josef Jewellers Hidden Gem Collection. Perfect for wedding day, that special occasion or an amazing gift. 
MJJGSET500
Dimensions
Height 23mm
Width 7mm
Weight 6.3g
Centre Stone 6mm X 7mm 
Length 450mm
18 inch Chain
Comes in our unique Mark Josef Jewellers packaging. 
If you would like some more information about this item, contact us directly through our Instagram/Facebook page, pop in store or call us on 01 8425904.
We are always happy to help.