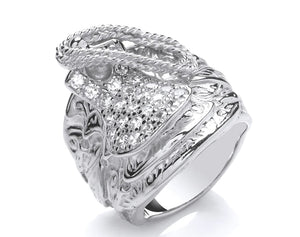 Sterling silver 925 Rhodium Plated Round Brilliant Cut Cubic Zirconia Carved Horse Saddle Signet Ring from Mark Josef Jewellers Gents Jewellery Collection. A truly unique piece of jewellery.
MJJGVR780
Specifications.
Width  25mm
Weight 29.2g
Gemstone Cubic Zirconia, Brilliant, Round 

Please state ring size in cart note box.
f you would like some more information about this ring, contact us directly through our Instagram/Facebook page, pop in store or call us on 01 8425904.
We are always happy to help.