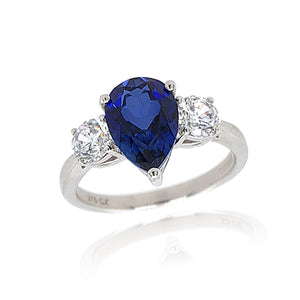 A beautiful elegant ring in white gold which shows off the amazing skill of modern hi-tech man-made gems. The centre of the Ring has a rich blue pear cut Sapphire, with glinting Cubic Zirconia on either side. The centre stone is a 'created' Sapphire: a true Sapphire, but made synthetically. These amazing methods of production create the most radiant and colourful, perfect stones with all the beauty and allure of the natural versions. This is a stunning combination of classic design and cutting-edge technology.
DETAILS
| | |
| --- | --- |
| Metal Weight gm | 2.6 |
| Height mm | 10 |
| Width mm | 14 |
| Depth mm | 6 |
| Stone Detail | White Cubic Zirconia with Created Pear Cut Sapphire |
| Gemstone | Cubic Zirconia |
| Metal Colours | White |
| Metal Type | 9 Carat Gold |
Ref 1Y12WCS
Comes in our unique Mark Josef Jewellers packaging.
Please state ring size in cart note box.
Payment plans available in store.
If you would like some more information about this ring, contact us directly through our Instagram/Facebook page or call us on 01 8425904.
We are always happy to help.